FM Town Emulator Help
Lately, I've been interested in getting into FM Town emulation, with the purpose of getting into the Ultima Series. So I downloaded the ROM of Ultima Collection (which contains the first three parts) along with the FM emulator, Tsugaru. When I boot the app and load the game, however, on the bottom part of the window, it says the following:
"
Driver is not Ready!
", the picture below can help you.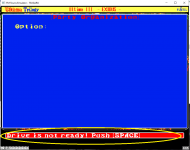 Since this is the first time I use this emulator, I would like to know if someone there has knowledge of this particular emulator to fix this problem or what to do.